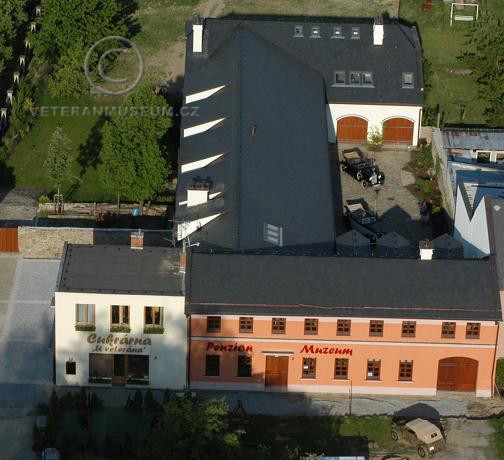 In a renovated farm from 1850 in Slatinice, a small spa town near Olomouc, you will find relaxation, sport and entertainment as well as interesting historical information. At an area of 400 square meters you will have a chance to see a collection of vintage cars and motorcycles (Mercedes Benz, BMW, KdF) mostly from the 1930s and large amount of accompanying period artefacts.
You will be captivated by the atmosphere of the historical city of Olomouc, a car repair shop with a gasoline station from the early 1920s or a country barn with a vintage car "stored" under a heap of straw and surrounded with various farming tools of our ancestors. In the display cases, you will find car models, historical automotive tools and samples of old automobile engineering.
You can learn interesting information about the history and development of motoring (especially of Mercedes Benz cars) by the medium of a six-hour audiovisual programme.
The items kept in the Museum are not typical museum exhibits; they constitute a living organism. The exhibited cars and motorcycles are roadworthy or being repaired to become roadworthy again. It may happen, and we apologize for this possible inconvenience, that at the time of your visit some car will be under repair, at a vintage car competition or just carrying a happy bride to the wedding ceremony.
The pièce de résistance of the collection is Mercedes Benz 200 W 21 from the 1933-1936. This is the most self-contained collection of cars of this type all around the world, with almost complete range of various types of car body (cabriolet A, B, C, roadster, limousine).
The most precious item in the collection is Mercedes Benz 200 cabrio B that has been owned by one family since its purchase in 1936. The car gives an interesting picture of a dramatic history of the owners' family (World Word II, nationalization in 1948, socialistic era, restoration of capitalism in 1989, floods in 1997…).
Mercedes Benz is also represented by older exhibits of W 02 and W11 Stuttgart and luxurious cars Mercedes Benz 320 W 142.
Mercedes Benz 320 cabriolet B is identical to the car in which the acting Reichsprotector Reinhard Heydrich was assassinated on the 27th May 1942.
The Mercedes Benz 130 H and 170 H cars are also very remarkable and special. These rear engine cars were designed by the Mercedes company to win the state contract for production of a "people's car".
The recent history of Daimler Benz can be admired at the elegant 190 SL from 1962.
BMW is represented by the renowned BMW R2 and R12 motorcycles. BMW motorcycles with opposed cylinders and cardan-shaft transmission drive to the rear wheel has been produced up to the present.
The exhibition also contains one of the very first and smallest cars of BMW - BMW DIXI - and so-called "Autobahn Cruiser" BMW 335, the largest and last pre-war car.
VW is represented by KdF 82 - a military car from 1940 constructed by Ferdinand Porsche, a native of Liberec. The civil version of that car - VW "Beetle" - has become the most sold civil car worldwide.